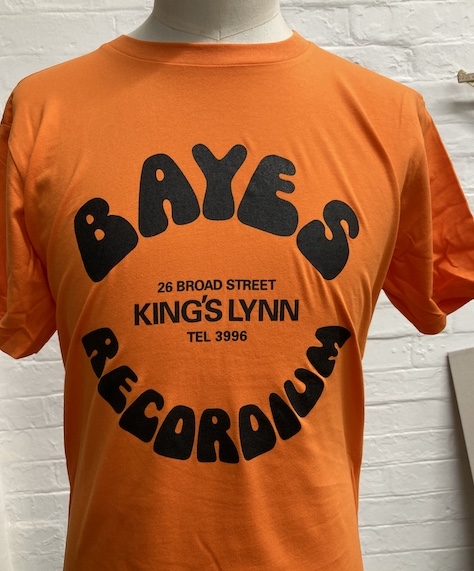 Bayes Recordium Shop Tee
| Format | Price | Buy |
| --- | --- | --- |
| Bayes Recordium Shop Tee SMALL | £20.00 | |
| Bayes Recordium Shop Tee MEDIUM | £20.00 | |
| Bayes Recordium Shop Tee LARGE | £20.00 | |
| Bayes Recordium Shop Tee X LARGE | £20.00 | |
| Bayes Recordium Shop Tee XX LARGE | £20.00 | |
Sorry, Bayes Recordium Shop Tee is out of stock.
Description
Bayes Recordium Shop Tee
Like super wow!! It's the Bayes Recordium Record Shop bag tee. A defunct groovy shop from Kings Lynn that used the classic Goodies / Magpie / Baked Bean font. Here in classic orange with a killer screen printed logo, this is a tee shirt for back then that's very good for right now too. NOTE!!! The XXL is a lighter yellowy orange, and not a straight mid orange. AND IT STILL LOOKS ACE.