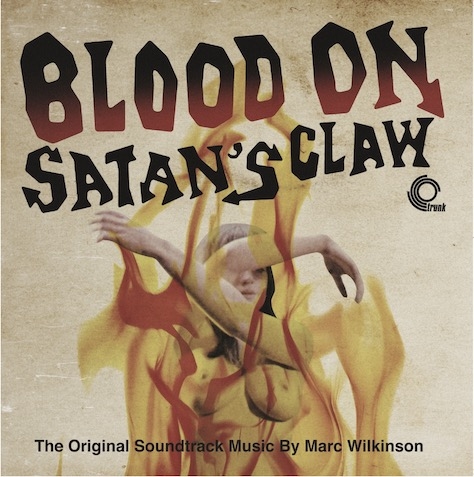 Blood On Satan's Claw
Available Formats
Tracks
Price
Buy
12" Vinyl Album
26 tracks

£

17.99

Out of stock

CD Album
26 tracks

£

12.99

Out of stock

Download Album (

MP3

)
26 tracks

£

0.50

Download Album (

WAV

)
26 tracks

£

0.50
Description
Marc Wilkinson - Blood On Satan's Claw
NEW ARTWORK!!!! Aaaaah, tis a thing of real beauty. Awesome, spooky and weird soundtrack music from 1970 by Marc Wilkinson (former musical director of the National Theatre) with an ensemble line up that includes the Ondes Martenot and Cymbalom. Erm, what else can I write about, oh yeah, the music here is based on the Devil's Interval, and that's all explained on sleevenotes. RARE REPRESS WITH NEW SLEEVE ART...

WILL BE SHIPPED WHEN IT ARRIVES - SHOULD BE FIRST WEEK OF DECEMBER....

Reviews
If I've sold out buy the download...
Tracklisting
12" Vinyl Album (JBH023LP)
Marc Wilkinson

- Fiend Discovered And Titles

Marc Wilkinson

- Peter And Rosalind In Attic

Marc Wilkinson

- Rosalind's Madness

Marc Wilkinson

- Angel's Claw

Marc Wilkinson

- Claw In Classroom

Marc Wilkinson

- Judge By Fireside

Marc Wilkinson

- Peter Fights Devil, Severs hand

Marc Wilkinson

- Judge Drives Off

Marc Wilkinson

- Mark Alone

Marc Wilkinson

- Death Of Marc

Marc Wilkinson

- Angel Naked

Marc Wilkinson

- Angel's First Curse

Marc Wilkinson

- Angel's Second Curse

Marc Wilkinson

- Return From The Graveyard

Marc Wilkinson

- Return From The Graveyard (2)

Marc Wilkinson

- Kathy Crowned

Marc Wilkinson

- Children Into Church

Marc Wilkinson

- Kathy's Ceremony

Marc Wilkinson

- Kathy's Rape And Death

Marc Wilkinson

- Peter's Ride

Marc Wilkinson

- Ralph Chops Tree

Marc Wilkinson

- Ralph Saves Margaret

Marc Wilkinson

- Margaret Escapes

Marc Wilkinson

- Raplh's Wound

Marc Wilkinson

- Ralph Bewitched

Marc Wilkinson

- Finale And Credits
CD Album (JBH023CD)
Marc Wilkinson

- Fiend Discovered And Titles

Marc Wilkinson

- Peter And Rosalind In Attic

Marc Wilkinson

- Rosalind's Madness

Marc Wilkinson

- Angel's Claw

Marc Wilkinson

- Claw In Classroom

Marc Wilkinson

- Judge By Fireside

Marc Wilkinson

- Peter Fights Devil, Severs hand

Marc Wilkinson

- Judge Drives Off

Marc Wilkinson

- Mark Alone

Marc Wilkinson

- Death Of Marc

Marc Wilkinson

- Angel Naked

Marc Wilkinson

- Angel's First Curse

Marc Wilkinson

- Angel's Second Curse

Marc Wilkinson

- Return From The Graveyard

Marc Wilkinson

- Return From The Graveyard (2)

Marc Wilkinson

- Kathy Crowned

Marc Wilkinson

- Children Into Church

Marc Wilkinson

- Kathy's Ceremony

Marc Wilkinson

- Kathy's Rape And Death

Marc Wilkinson

- Peter's Ride

Marc Wilkinson

- Ralph Chops Tree

Marc Wilkinson

- Ralph Saves Margaret

Marc Wilkinson

- Margaret Escapes

Marc Wilkinson

- Raplh's Wound

Marc Wilkinson

- Ralph Bewitched

Marc Wilkinson

- Finale And Credits
Download Album (JBH023CD)