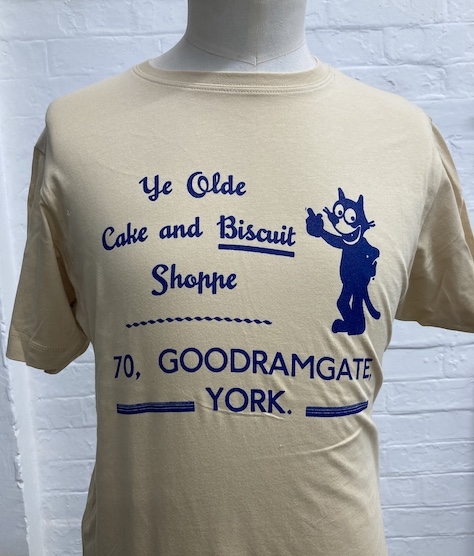 Cake And Biscuit Tee
| Format | Price | Buy |
| --- | --- | --- |
| Cake And Biscuit Tee SMALL | £20.00 | |
| Cake And Biscuit Tee MEDIUM | £20.00 | |
| Cake And Biscuit Tee LARGE | £20.00 | |
| Cake And Biscuit Tee X LARGE | £20.00 | |
| Cake And Biscuit Tee XX LARGE | £20.00 | |
Sorry, Cake And Biscuit Tee is out of stock.
Description
Cake And Biscuit Tee
Yes!!! Ye Olde Cake And Biscuit Shoppe, Goodramgate, York. Mid 1960s at the latest I reckon. Great shop bag (fro the John Townsend collection) now lovingly reproduced and screenprinted onto a a biscuit coloured earth positive organic tee shirt. YUMMY. See sizing chart below for tee sizes. Very limited edition, just 30 made.