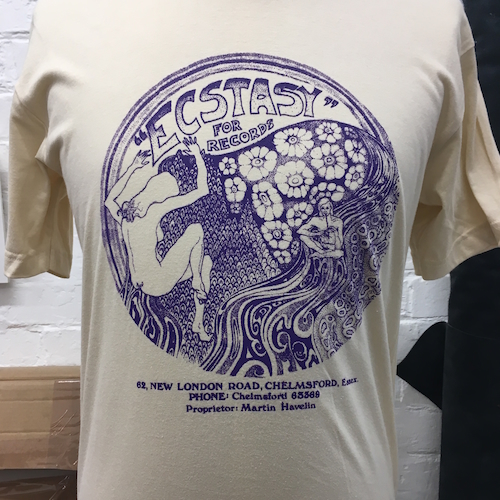 Ecstasy For Records Psychedelic tee shirt
Sorry, Ecstasy For Records Psychedelic tee shirt is out of stock.
Description
Ecstasy For Records Psychedelic tee shirt
This design is taken from one of the rarest UK record shop bags I have ever come across, Ecstasy For Records, New London Road, Chelmsford. From what I can gather it was an important part of the lively Chelmsford music scene, not just for selling groovy records (it had booths and everything) but also for helping with live performances and shows. There may well have been a disastrous 1977 punk event the shop helped to organised too that went all wrong, and lots of money was lost when the Jam and The Damned pulled out and not many people turned up. Little is known / written about the shop, but I have come across a rare recording of Grayson Perry talking about it, as one of his haunts in the late 1970s - so I went to his studio this morning and offered him a free tee shirt. He took the tee shirt, said "it's very cool" and also told me that it was where he bought his first ever record, The Jam's This Is The Modern World. The tee shirt design is really quite something - and totally unique, from what I see it could well be based on a Venetian glass paperweight with those coloured glass rods inside, plus a naked woman and a piper, possibly at the gates of dawn. I mean who knows - could just be a psychedelic vision. But what a great period design, what a statement, what a tee shirt. Limited to just 30, and I have already taken one, and Mr Perry has one, so already down the 28. The design is printed onto a 100% organic cotton Ivory tee by Contintal (see size chart below). Totally superb tee, in fact I'd call it a classic now. Certainly bordering on historically important in weirdy record shop folklore too.