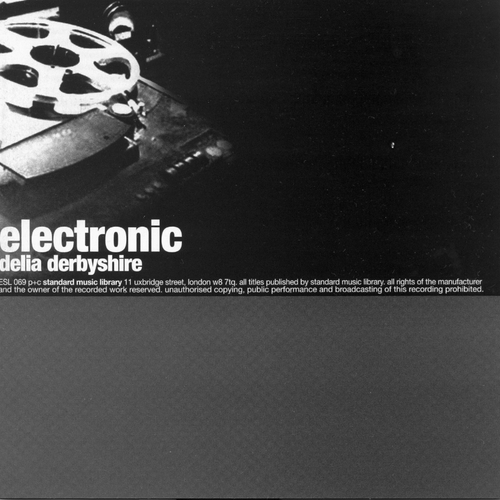 ELECTRONIC DELIA DERBYSHIRE
| Format | Price | Buy |
| --- | --- | --- |
| Electronic Delia Derbyshire CD | £7.99 | |
Sorry, ELECTRONIC DELIA DERBYSHIRE is out of stock.
Description
Brian Hodgeson, Delia Derbyshire - ELECTRONIC DELIA DERBYSHIRE
Up for grabs, and only available here, we have very limited dead stock of The Standard Music Library CD "Electronic Delia Derbyshire". 33 tracks in all of Delia (Li De La Russe) and Brian Hodgson (Nikki St George) working for the Standard Music library and moonlighting from the BBC Radiophonic Workshop. This is the complete CD version of the legendary ESL 104 LP (from 1969, as used in Dr Who, weird films like Work Is A Four Letter Word, TV like The Tomorrow People etc), includes electronic classic such as "Delia's Psychedelian Waltz" and was originally issued by the library back in 1969. I have a spare of the original vinyl if you are interested, drop me a line. In the meantime, this is the non commercial and first ever digital issue of the album, never commercially available - only given to studio / broadcasters / libraries at places like LWT, the BBC etc and now up for grabs direct from the Standard Music Archive which is currently in the process of being streamlined and moved. I have The Standard Library's full permission to sell the CDs - in fact they dropped them around to me this week. So there.