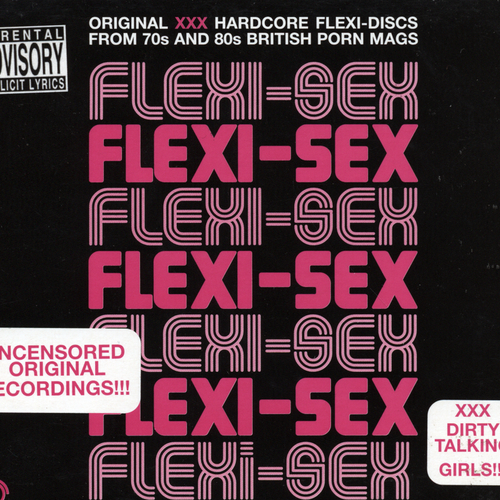 Flexi Sex
Available Formats
Tracks
Price
Buy
12" Vinyl Album
9 tracks

£

11.99

Out of stock

CD Album
9 tracks

£

10.99

Out of stock

Download Album (

MP3

)
9 tracks

£

6.75

Download Album (

WAV

)
9 tracks

£

6.75
Description
Various Artists - Flexi Sex
Wow, it's Flexi Sex in a digipack - the first Trunk digipack ever! And what an album, total and utter filth from start to finish. To cut a long story short, this is a collection of all the Flexi Discs issued by those naughty top shelf titles "Rustler" and "Whitehouse" in the late seventies and early eighties. There are nine treats in all on the CD - including the bonus lavatory festival that is Mary Millington. Also included are Tantalising Tina, Rosey and Nobby, Sonias Sex Diary, Folky Fenella from Dorset whose real name is Eydie and so much more besides. Each dirty girls has a 5 to 6 minute filthy monologue, the like of which you may well have never heard before. The idea was the reader would buy his mag, take it home, then play the flexi disc while ogling the dirty pictures. Truly a magical experience then, and an even more magical one now. This is the first time these recordings have ever been compiled and will probably be the last, but some suprisingly good reviews are coming in from all over the place, even the Grauniad so get your copy quick. Please note that these recordings are indeed "Hardcore", so you have been warned. It is not out intention to offend. Well not all the time. One last thing, there are no masters for these flexis, so they have been mastered from the original flexis. You will experience some background noise along with all the foreground filth.


500 vinyl copies - all sold
Limited digipack CD - all sold
Downlaod available. Get it now and tell your filthy friends...
Tracklisting
12" Vinyl Album (JBH004LP)
Jonny Trunk & Juicy Lucy

- I'm Juicy Lucy

Jonny Trunk & Babs

- Babs

Jonny Trunk

- Come With Me

Jonny Trunk & Irish Anabel

- Irish Anabel

Jonny Trunk & Rosie & Nobby

- Rosie And Nobbie

Jonny Trunk & Tantalising Tina

- Tantalising Tina

Jonny Trunk & Sonia

- Sonia's Sex Diary

Jonny Trunk & Folky Fenella

- Folky Fenella From Dorset

Mary Millington

- Mary Millington Talks Dirty
CD Album (JBH004CD)
Jonny Trunk & Juicy Lucy

- I'm Juicy Lucy

Jonny Trunk & Babs

- Babs

Jonny Trunk

- Come With Me

Jonny Trunk & Irish Anabel

- Irish Anabel

Jonny Trunk & Rosie & Nobby

- Rosie And Nobbie

Jonny Trunk & Tantalising Tina

- Tantalising Tina

Jonny Trunk & Sonia

- Sonia's Sex Diary

Jonny Trunk & Folky Fenella

- Folky Fenella From Dorset

Mary Millington

- Mary Millington Talks Dirty
Download Album (JBH004CD)