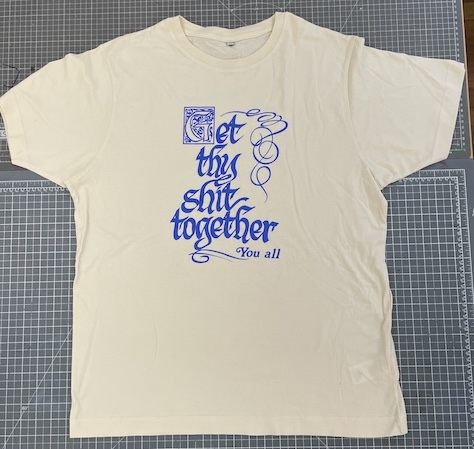 OFF WHITE GET THY SHIT TOGETHER TEE
| Format | Price | Buy |
| --- | --- | --- |
| OFF WHITE GET THY SHIT TOGETHER TEE SMALL | £22.00 | |
| OFF WHITE GET THY SHIT TOGETHER TEE MEDIUM | £22.00 | |
| OFF WHITE GET THY SHIT TOGETHER TEE LARGE | £22.00 | |
| OFF WHITE GET THY SHIT TOGETHER TEE EXTRA LARGE | £22.00 | |
| OFF WHITE THY SHIT TOGETHER TEE EXTRA EXTRA LARGE | £22.00 | |
Sorry, OFF WHITE GET THY SHIT TOGETHER TEE is out of stock.
Description
OFF WHITE GET THY SHIT TOGETHER TEE
So, interesting story behind this tee (apart from the fact the first lot sold out in about 15 minutes). I was watching the incredible six part documentary Light And Magic, all about the history and development of Industrial Light And Magic. Basically they were a ramshackle bunch of talented geeks who ended up making all the SFX for Star Wars using rubber bands, Airfix models, wire and cheese. I think it's in episode two of the documentary that there's a great behind the scenes photos of all the super geeks celebrating the fact that they had made The Empire Strikes Back. In this photo one of them is wearing THIS TEE SHIRT. I instantly told myself "I must have a Get Thy Shit Together tee shirt". So I found an original late 1970s one, and have remade it identically. That's basically it. ALL NEW OFF WHITE VERSION WITH SEXY BLUE PRINT. VERY LIMITED INDEED!!!! So, I suggest you Get Thy Shit Together and buy one ASAP. Organic cotton tee - see size chart...