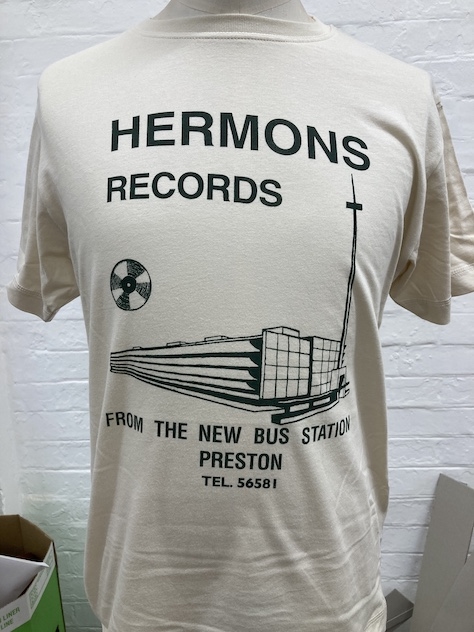 HERMONS RECORDS BRUTALIST TEE
| Format | Price | Buy |
| --- | --- | --- |
| HERMONS RECORDS BRUTALIST TEE SMALL | £20.00 | |
| HERMONS RECORDS BRUTALIST TEE MEDIUM | £20.00 | |
| HERMONS RECORDS BRUTALIST TEE LARGE | £20.00 | |
| HERMONS RECORDS BRUTALIST TEE XL | £20.00 | |
| HERMONS RECORDS BRUTALIST TEE XXL | £20.00 | |
| HERMONS RECORDS BRUTALIST TEE EXTRA SMALL | £20.00 | |
Sorry, HERMONS RECORDS BRUTALIST TEE is out of stock.
Description
HERMONS RECORDS BRUTALIST TEE
Wow, who knew, apart from people in Preston, that Hermons Records was a little record shop in the brutalist bus station built in 1969. Just perfect. And this is the tee shirt. Just perfect too. The building, for years under threat of demolition, was awarded Grade II listing status in 2013, with many celebration and events on its 50th birthday in 2019. Hermons has long gone. But the tee shirt now lives on. I also need to add that there is a slight religious feel to this tee as it has a long aerial thing with a cross bar, which could be seen as a small cross. PRINTED ON AN IVORY TEE. Sizing seen below.