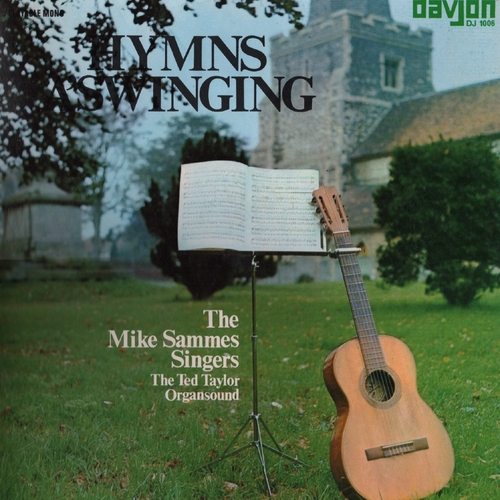 Hymns A Swinging
Available Formats
Tracks
Price
Buy
CD Album
12 tracks

£

0.99

Out of stock

Download Album (

MP3

)
12 tracks

£

0.50

Download Album (

WAV

)
12 tracks

£

0.50
Description
The Mike Sammes Singers & The Ted Taylor Organsound - Hymns A Swinging
Yes, legendary easy listening jazz madness starring God. Yes, this album is legendary. Maybe I can mention legendary again...


This album is legendary for many reasons; Tubby Hayes is playing on it, the Mike Sammes Singers are the vocalists and the arrangements are absolutely insane, moving from hard latin jazz, through occasional swings and odd psych. Most of the hymns are hard to recognise until the vocals kick in, so you can use the album as a musical guessing game. Marvellous and totally unique. This is the first time this has been made legally available as it has been bootlegged in the past.
Reviews
I think this is superb. And not just on Sundays.
Jonny Trunk
Tracklisting
CD Album (JBH031CD)
The Mike Sammes Singers & The Ted Taylor Organsound

- Harvest Home

The Mike Sammes Singers & The Ted Taylor Organsound

- Hills Of The North

The Mike Sammes Singers & The Ted Taylor Organsound

- 40 Days And 40 Nights

The Mike Sammes Singers & The Ted Taylor Organsound

- For All The Saints

The Mike Sammes Singers & The Ted Taylor Organsound

- All Things Bright And Beautiful

The Mike Sammes Singers & The Ted Taylor Organsound

- Bright The Vision That Delighted

The Mike Sammes Singers & The Ted Taylor Organsound

- Glorious Things of Thee Are Spoken

The Mike Sammes Singers & The Ted Taylor Organsound

- He Who Would Valient Be

The Mike Sammes Singers & The Ted Taylor Organsound

- Immortal Invisible God Only Wise

The Mike Sammes Singers & The Ted Taylor Organsound

- O Jesus I have Promised

The Mike Sammes Singers & The Ted Taylor Organsound

- O Worship The King

The Mike Sammes Singers & The Ted Taylor Organsound

- Praise To The Lord
Download Album (JBH031)