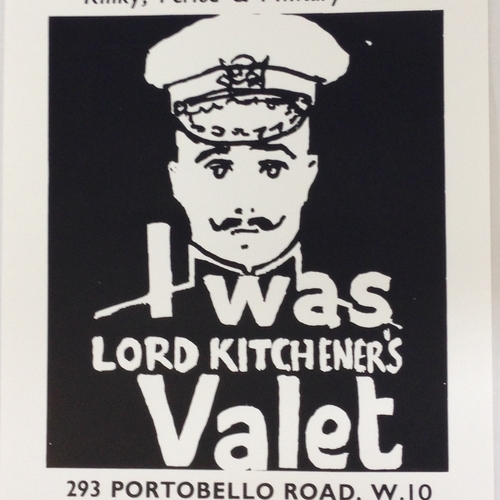 I Was Lord Kitchener's Valet Screenprint
| Format | Price | Buy |
| --- | --- | --- |
| I Was Lord Kitchener's Valet Poster | £30.00 | |
Sorry, I Was Lord Kitchener's Valet Screenprint is out of stock.
Description
I Was Lord Kitchener's Valet Screenprint
This is the first ever screenprint of impossibly rare fashion history! Founded in 1964 "I Was Lord Kitchener's Valet" was the first ever second hand clothing boutique - hugely influential across the mid 1960s and beyond. It was the "in" place, it's where Hendrix got "that" Royal Hussar jacket, where The Beatles, The Stones (see Jagger on TOTP in militarywear etc), The Kinks, Cream / Clapton etc all shopped for their military garb and kinky way-out clobber. Based in Portobello Road - later spreading to Carnaby Street and beyond, this is a print taken from one of the original screenprinted window / fly posters from the original shop in 1964. These are incredibly rare, an original would set you back about £1000, maybe even more in these retrospective fashion days. This is a limited run of just 25 handnumbered copies only. Screenprinted on fine quality Italian Fabriano archive paper, signed, all hand-numbered and with small debossed Trunk logo stamp bottom right. Poster dimensions: 50cm (width) x 70cm (length), printed area 60cm x 42cm. Looks amazing.