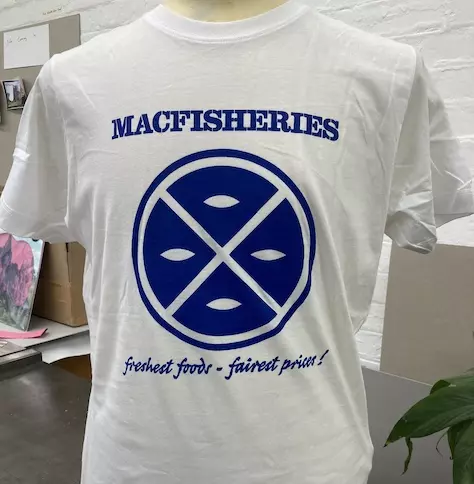 MACFISHERIES TEE SHIRT
| Format | Price | Buy |
| --- | --- | --- |
| MACFISHERIES TEE SHIRT SMALL | £10.00 | |
| MACFISHERIES TEE SHIRT MEDIUM | £10.00 | |
| MACFISHERIES TEE SHIRT LARGE | £10.00 | |
| MACFISHERIES TEE SHIRT XL | £22.00 | |
| MACFISHERIES TEE SHIRT XXL | £10.00 | |
Sorry, MACFISHERIES TEE SHIRT is out of stock.
Description
MACFISHERIES TEE SHIRT
So, there was a Macfisheries (or Mac Fisheries) shop in my home town. It was a big chain started by one of the Lever brothers - of fishmongers and supermarkets, all with this cross circle logo thing. The logo image has haunted me for decades. So I found a bag (took years believe it or not) and now we have this tee shirt. On a totally obscure / wild observational Trunk fact thing - see if you can spot the MacFisheries bag on one of the classic Kevin Cummins photos "Joy Division, TJ Davidson's rehearsal room, Little Peter Street, Manchester, 19 August 1979". KILLER. See chart for sizing.