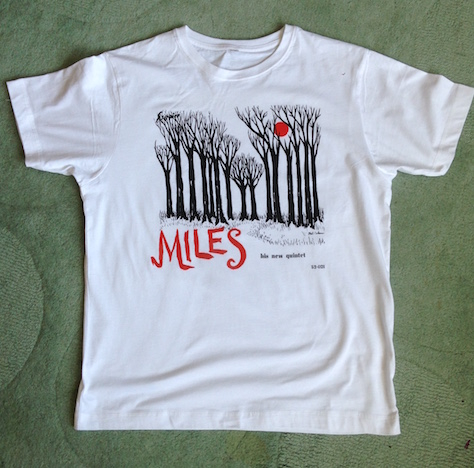 Miles Davis / Mel Calman Tee Shirt
| Format | Price | Buy |
| --- | --- | --- |
| Miles Davis / Mel Calman Tee Small | £15.00 | |
| Miles Davis / Mel Calman Tee Shirt Medium | £25.00 | |
| Miles Davis / Mel Calman Tee Shirt Large | £25.00 | |
| Miles Davis / Mel Calman Tee Shirt XL | £25.00 | |
| Miles Davis / Mel Calman Tee Shirt XXL | £15.00 | |
Sorry, Miles Davis / Mel Calman Tee Shirt is out of stock.
Description
Miles Davis / Mel Calman Tee Shirt
Officially licensed from artist Mel Calman's estate, this tee features the remarkable, rare and wholly unique artwork for the Miles Davis And HIs Quintet UK Esquire LP from 1956. Simply sublime, I made limited art print of this at the end of 2017 and they sold out in two hours. I have thought long and hard about this tee shirt edition - never really been a fan of the "jazz tee" myself, but I think this is quite different as the artwork is so utterly magical. It was Calman's first commercial commission and (as you may know) he went on to become a formidable and popular political cartoonist and book illustrator for many years - check your penguin paperback books for his regular cover art. This new two colour print has been put onto top quality organic cotton "Continental brand" tee shirt and although I have made a first initial run of the tees, it will be an open edition, and I will be printing more tees as they are ordered. So, you may well get one of the first runs but we are keeping the screen and you may well have to wait week or so for yours to arrive as we print more, but you will be kept informed of any wait. These tees have already caused quite a stir at the Greedbag offices with several of the first run going to staff -this is a good sign if you ask me. They are two colour screen print on top quality tees and I also have to pay royalties to the Calman estate, hence the slightly higher than usual Trunk Tee shirt price. However you will thank me when you get asked where it came from. Trust me, this is a magical new old thing.