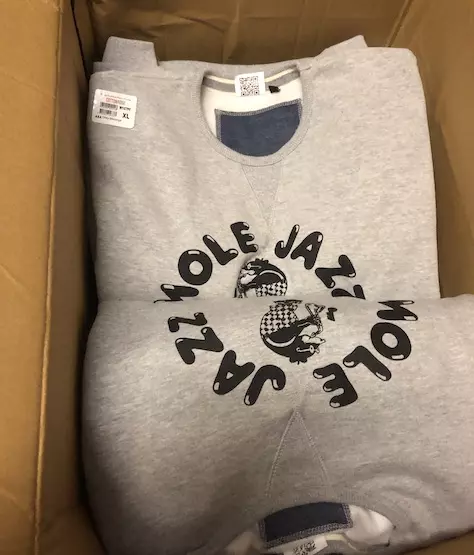 MOLE JAZZ SWEATSHIRT
| Format | Price | Buy |
| --- | --- | --- |
| MOLE JAZZ GREY SWEATSHIRT SMALL | £40.00 | |
| MOLE JAZZ GREY SWEATSHIRT MEDIUM | £40.00 | |
| MOLE JAZZ GREY SWEATSHIRT LARGE | £40.00 | |
| MOLE JAZZ GREY SWEATSHIRT EXTRA LARGE | £40.00 | |
| MOLE JAZZ GREY SWEATSHIRT EXTRA EXTRA LARGE | £40.00 | |
Sorry, MOLE JAZZ SWEATSHIRT is out of stock.
Description
MOLE JAZZ SWEATSHIRT
Yes it's all about the little mole. And the hope of course. Not only was this arguably the best jazz shop in London Town, it also had a killer logo with this little mole and the liquorice writing. Looks great on a tee, even better on a super comfy big thick PREMIUM sweatshirt that even comes with a very useful little phone pocket down the side seam that you may well miss unless I point it out. See sizing chart for sizes. THIS IS VERY LIMITED INDEED, JUST A HANDFUL MADE (14 in total). Sorry I have taken a photo of them in the box but someone has half inched the mannequin I used to use so this will have to do for the time being. I'm sure you can work out what it looks like. Mole jazz logo on a. grey sweat. Dead easy. Picture below of me wearing one, listening to jazz.