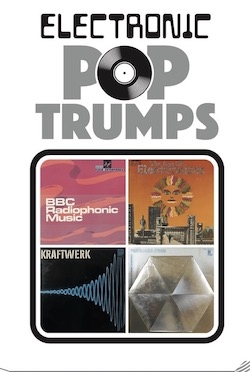 POP TRUMPS ELECTRONIC EDITION
| Format | Price | Buy |
| --- | --- | --- |
| POP TRUMPS ELECTRONIC EDITION | £11.99 | |
Sorry, POP TRUMPS ELECTRONIC EDITION is out of stock.
Description
POP TRUMPS ELECTRONIC EDITION
With the help of Julian and Jim from Ghostbox, plus Andrew Divine (DJ, collector and graphics man) we have created the next Pop Trumps pack - it's the Electronic Edition. Not only do these have metallic ink BUT they feature albums, sets, 7" singles, EPs, ten inches record, private presses and more from the 1950s to the 1980s. From concrete to post punk, featuring Radiophonics, Oramics, door slamming, trips into space, oscillations, palpitations and a bit of sex along the way. 55 cards in all, full colour and, as I say, with metallic ink!!! Know your Silver Apples from your Silver Apples Of The Moon, your E.M.S. from you YMO. Statistics include rarity, mint value, knob count and more besides. These really are sexy plugged-in times, limited to 700 packs only. NO REPRINTS. WILL ARRIVE FIRST WEEK OF DECEMBER, WILL BE SHIPPED THEN...