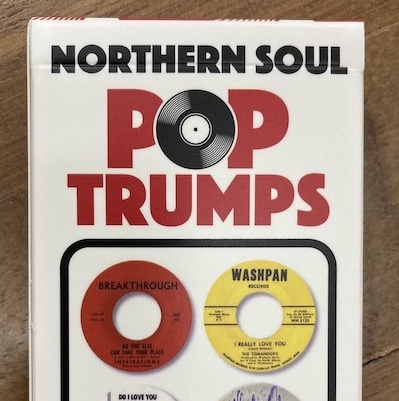 POP TRUMPS NORTHERN SOUL EDITION
| Format | Price | Buy |
| --- | --- | --- |
| Pop Trumps Northern Soul Edition | £11.99 | |
Sorry, POP TRUMPS NORTHERN SOUL EDITION is out of stock.
Description
POP TRUMPS NORTHERN SOUL EDITION
After the sell out of last years Pop Trumps Rare Records card game, we have made the same number - just 1000 packs of all new Northern Soul Pop Trumps. Quite brilliant is is too, with 7" classic and lesser known monsters battling it out - with mint prices raging from £30 to £100,000 (yes, a Northern 7" was sold this year for £100k), investment value, rarity factor, influence and more. We used records from Wigan DJ legend Richard Searling's collection mixed with classic we know and love. A deck full of surprises, from The Honey Bees to The Dogs, from Frank Wilson to Al Wilson and beyond. We've even put together a Spotify "Northern Soul Pop Trumps" play list and I have become totally OBSESSED with Ann Sexton's "You've been Gone Too Long", so much so that I have played it least 35 times already today. And btw, as a result of last years' pack someone realised they had the Banksy 12" and then sold it for £4K as a result!!! PACKS JUST IN - WILL BE SENT OUT IMMEDIATELY IN TIME FOR CHRISTMAS.