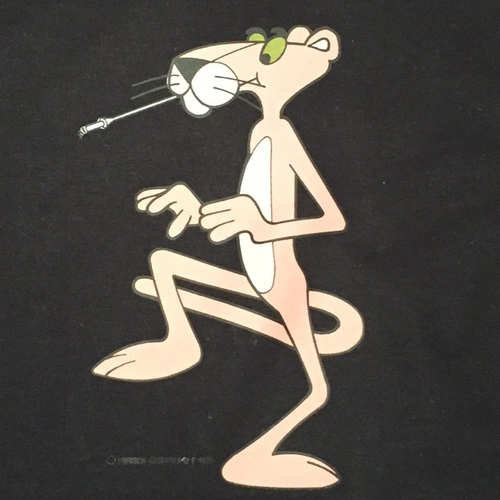 Rare Pink Panther Original Sweatshirt
| Format | Price | Buy |
| --- | --- | --- |
| Custom made Pink Panther Sweatshirt | £100.00 | |
Description
Rare Pink Panther Original Sweatshirt
Yes, a mega rare sweatshirt, with original late 1970s Pink Panther / Mirisch transfer, made to your specification.
So, this is the deal. We have just FOUR of original Pink Panther Tee shirt transfers. These the ones made under license from Mirisch at the time, so the Pink Panther is as he should be, and not drawn badly by another company. Anyway, these have come form a collection of untouched 1970s tee shirt transfers, and without doubt, the Pink Panther is super rare beast.
These transfers are new old stock, never been touched in over 5 decades. An original Pink Panther clothing is mythical, and you woudl never find an original. You could buy a Supreme tee, but they are about £400.
So, here we offer you the chance to have an unusued original period transfer newly pressed (using an authentic 1970s tee shirt pressing iron) onto a sweatshirt. You can ask for a tee shirt if you wish – just order the item below and tell us what you want and it will be made.
Colours available: Grey / Black / Pink
We will be using Gildan Sweatshirts, the dimensions are as follows:
Small – Chest: 50cm Top To Base – 69cm
Medium: Chest: 57cm Top To Base – 71cm
Large: Chest: 61cm Top To Base – 74cm
XL: Chest: 66cm Top To Base – 76cm
XXL: Chest: 70cm Top To Base – 76cm