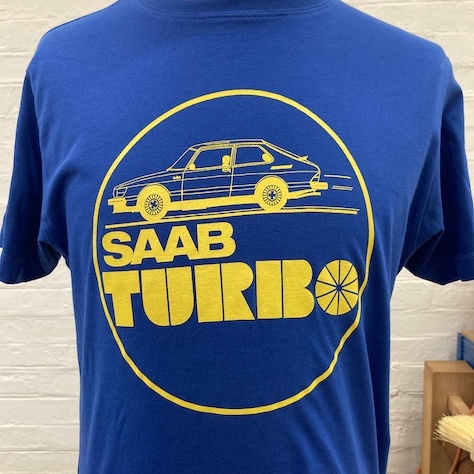 SAAB TURBO REVERSE TEE
| Format | Price | Buy |
| --- | --- | --- |
| SAAB TURBO REVERSE TEE SMALL | £19.99 | |
| SAAB TURBO REVERSE TEE MEDIUM | £19.99 | |
| SAAB TURBO REVERSE TEE LARGE | £19.99 | |
| SAAB TURBO REVERSE TEE X-LARGE | £19.99 | |
| SAAB TURBO REVERSE TEE XXL | £19.99 | |
Sorry, SAAB TURBO REVERSE TEE is out of stock.
Description
SAAB TURBO REVERSE TEE
SUPERB and very rare late 1970s Saab Turbo promo only garment now available as a brand new tee!!!! This is the reverse of the one made for the Auto Erotica book, so the Swedish colours are simply reversed. IT LOOKS BANGIN'. And, like most Trunk tees, very limited INDEED. Organic cotton tee by the way.