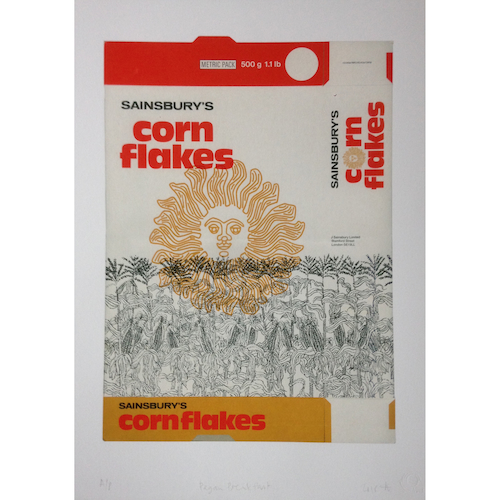 Sainsbury's Pagan Cornflakes Giclee Print
| Format | Price | Buy |
| --- | --- | --- |
| Sainsbury's Pagan Cornflakes Giclee Print | £45.00 | |
Sorry, Sainsbury's Pagan Cornflakes Giclee Print is out of stock.
Description
Sainsbury's Pagan Cornflakes Giclee Print
JUST FOUND A SPARE OF THIS. JUST ONE!
Beautiful A3 Giclée print of the legendary "Pagan" Cornflakes packet from 1976. A true graphic design classic from Sainsbury's Design Studio, under the direction of Peter Dixon. The Own Label designs are hugely influential in terms of basic graphic economy and unusual concepts - and this is no exception. A fabulous concept with layered imagery from multiple ancient sources, bringing a touch of Summerisle to the modern. mid 1970s breakfast table.
Reproduced here in its exact size. This is a closed edition, cunningly limited in that is has a sell by date of 12.12.18 - in other words once the date of 12.12.18 has passed the print will no longer be for sale.
All prints are embossed, signed and printed on hand cut Hahnemuhle Photorag 308gsm archival art paper.
Profits go to the Sainsbury's archive (which, btw, is not part of the Sainsbury's Supermarket. Not at all) it's a charity and trust.
And yes, these prints really look incredible, the quality of print / reproduction is sublime.