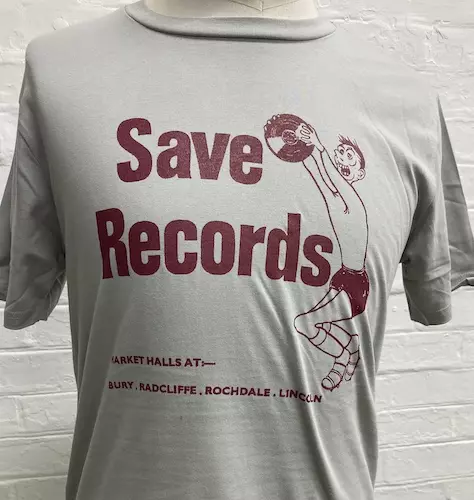 SAVE RECORDS GREY / RED TEE
| Format | Price | Buy |
| --- | --- | --- |
| SAVE RECORDS GREY / RED TEE SMALL | £19.99 | |
| SAVE RECORDS GREY / RED TEE MEDIUM | £19.99 | |
| SAVE RECORDS GREY / RED TEE LARGE | £19.99 | |
| SAVE RECORDS GREY / RED X LARGE | £19.99 | |
| SAVE RECORDS GREY / RED TEE XX LARGE | £19.99 | |
Sorry, SAVE RECORDS GREY / RED TEE is out of stock.
Description
SAVE RECORDS GREY / RED TEE
Wow, I love this so much. Save Records was started in the late 1960s by ex Rochdale FC goalie Simon Jones. So, no surprises that he chose the perfect name of Save Records for the shop, and drew himself of the all new shop logo. I believe the shop was started as a market stall in the covered market in Bury and spread to three other towns. Sadly all shops are now, gone, the Bury Market shop finally shutting up in 2016 when the market was closed down. (Maxine, the last owner of the shop is now trading as DisCovery Records but online and at fayres). But, what a fabulous record shop bag. Possibly my favourite one to date for so many reasons. And what a tee shirt!!! Also, we have permission of Simon, the ex Rochdale goalie to reproduce his logo. Here we have screen printed the logo onto a fabulous organic pale grey tee, with the image in a deep dark red. Looks stunning. See chart for sizing. Very limited. Killer tee.