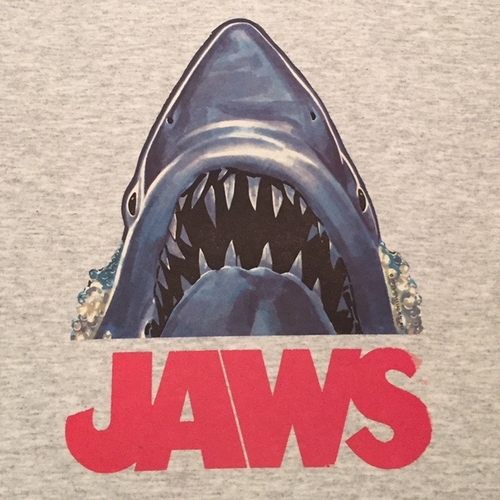 Super Rare Jaws Sweatshirt
| Format | Price | Buy |
| --- | --- | --- |
| Jaws Sweatshirt Size L Grey | £100.00 | |
| Jaws Sweatshirt Custom | £100.00 | |
Sorry, Super Rare Jaws Sweatshirt is out of stock.
Description
Super Rare Jaws Sweatshirt
Mega rare 1977 JAWS tee shirt transfer. One is already freshly pressed onto a new grey sweatshirt - size L. The other can be printed on anything you wish - tee shirt or sweatshirt.
So, these are original Jaws The Movie Tee shirt transfers. These are incredibly rare, like cinematic gold dust. These are new old stock, never been touched and woudl have been made when the film came out.
An original of this image on a tee shirt will set you back about £250 these days, probably more, such is the desirability of classic / cult cinematic memorabilia.
But here we offer you the chance to have an unusued original period transfer newly pressed (using an authentic 1970s tee shirt pressing iron) onto a sweatshirt. You can ask for a tee shirt of you wish – just order the item below and ask.
So, to get one of these incredibly rare Jaws Sweatshirts, just order the sweatshirt below, tell us the size you want and it will be made for.
We will be using Gildan Sweatshirts, colours available: Grey / Black / Pink and the dimensions are as follows:
Small – Chest: 50cm Top To Base – 69cm
Medium: Chest: 57cm Top To Base – 71cm
Large: Chest: 61cm Top To Base – 74cm
XL: Chest: 66cm Top To Base – 76cm
XXL: Chest: 70cm Top To Base – 76cm
As mentioned, we have it printed on a single grey sweat, size L - or you can order the transfer printed onto something else.