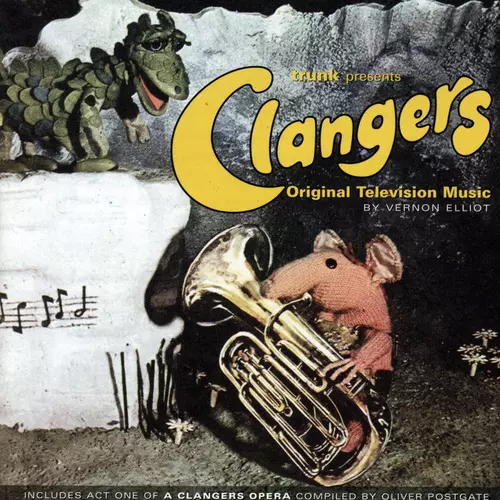 The Clangers
Available Formats
Tracks
Price
Buy
12" Vinyl Album
2 tracks

£

11.99

Out of stock

CD Album
22 tracks

£

2.99

Out of stock

Download Album (

MP3

)
22 tracks

£

0.50
Description
Vernon Elliott - The Clangers
First ever release of all the Clangers music. Aaaaaaahhhhhh.

Yes,, aaaaaaaaahhhhhh. What an unbelievable recording. The entire unreleased score for the entire Clangers TV series - that's music for all 26 episodes. It grows organically (as does the series) from small and simple phrases to complex passages of pure pastoral space music. It all climaxes with the awesome "Harmony Of The Spheres". The running order is exactly as it ran with all 26 episodes and includes some SFX, Tiny Clanger and Oliver Postgate's timeless introduction. This CD also comes with the unique and sweet "Clangers Opera" compiled by Oliver Postgate, an adventure on the Clangers planet starring the Iron Chicken. The CD booklet includes rare photos, early Clangers Sketches and a Libretto for the Clangers Opera written by Oliver Postgate. This is the perfect CD to listen to in either moments of stress, bliss or when you are going to bed with your hot milk and cookies. Also, if you are going to take a lady out, it's a great gift for the end of the evening and may even lead to some hanky panky a little later on.

CD and very limited vinyl, the first 26 copies of which will come with pink knitted sleeves.

Reviews
One of the most charming and lovely recordings of all time.
Tracklisting
12" Vinyl Album (SOUP001LP)
A Short Silent Interval

A Clangers Opera
CD Album (SOUP001CD)
Intro and dialogue

The Start Of "Music"

From "Visiting friends"

Clangers Running Around the Planet

From "Fishing"

From "Treasure"

Useful Musical Sequences

From "Goods"

An End Title

Tiny Clanger's Radio Hat

Oliver's Special Effects

From "The Rock Collector"

From "Glowhoney"

From "Teapot"

From "Cloud"

From "The Seed"

From "The Bags"

From "Blow fruit"

From "The Pipe Organ"

From "The Music Of The Spheres"

A Short Silent Interval

A Clangers Opera
Download Album (SOUP001CD)