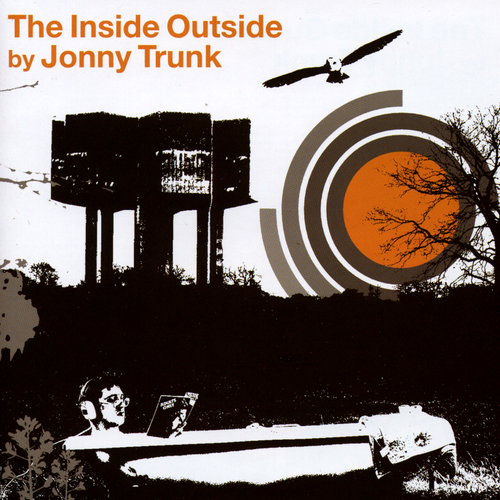 The Inside Outside
Available Formats
Tracks
Price
Buy
12" Vinyl Album
13 tracks

£

11.99

Out of stock

CD Album
13 tracks

£

2.99

Out of stock

Download Album (

MP3

)
13 tracks

£

1.99

Download Album (

WAV

)
13 tracks

£

1.99
Description
Jonny Trunk - The Inside Outside
Debut release from the fool behind Trunk Records. Look he's in the bath in the garden on the front. Anyway, this is a delightful little debut album, full of fun, lovely strings, very weird loony bits and a mousetrap. Thirteen tracks in all, here's a quick run down so you get the idea. 'Sister Woo' was released as a limited (400 copies) single and then was used by Add (N) To X on their final album. Gilles Peterson also played it on Radio One. 'Asylum' reminds me a little of the abandoned nursing home down the road. Some assume this is influenced by Basil Kirchin which is understandable but not intentional. 'Nine Bob Note' is a kind of waltzy thing with weird bits. 'The Wonk' is a slight homage to the great lost composer Herbert Chappell and Romero's 'Dawn Of The Dead'. 'Winspit' is a place in Dorset. 'Deep In A Dream' was a kind of accident that got out of control. 'Curl One Out' really does sound like that, and if you dance to it using that kind of lavatorial movement you should look pretty groovy. 'The Woods Today' really reminds me of playing alone in the scary woods as a child and finding a discarded pair of dirty pants. 'Mr Hand' used to be my Choirmaster when I was about ten. 'Dead Mouse Blues was written after I had a mouse problem. They were eating things and pooing in my kitchen, so I caught them with a trap. What's interesting here is that I "googled" myself the other day and found to my delight and suprise that Nittin Sawhney had played it out when he was Djing for Radio 6. 'The Horn' is a rose-tinted look back at my days as a pornographer. 'Zeus' is named after an important painting of an incoming storm. 'Willing And Able' is not a very good name at all for this last track but it does include a 5/4 timimg thing and some scat vocals. Go on, buy it you miserable sod.

CD and very limited vinyl no longer available.
Reviews
"Wow, this guy has got talent"
Jonny Trunk
Tracklisting
12" Vinyl Album (JBH008LP)
Jonny Trunk

- Sister Woo

Jonny Trunk

- Asylum

Jonny Trunk

- Nine Bob Note

Jonny Trunk

- The Wonk

Jonny Trunk

- Winspit

Jonny Trunk

- Deep In A Dream

Jonny Trunk

- Curl One Out

Jonny Trunk

- The Woods Today

Jonny Trunk

- Mr. Hand

Jonny Trunk

- Dead Mouse Blues

Jonny Trunk

- The Horn

Jonny Trunk

- Zeus

Jonny Trunk

- Willing And Able
CD Album (JBH008CD)
Jonny Trunk

- Sister Woo

Jonny Trunk

- Asylum

Jonny Trunk

- Nine Bob Note

Jonny Trunk

- The Wonk

Jonny Trunk

- Winspit

Jonny Trunk

- Deep In A Dream

Jonny Trunk

- Curl One Out

Jonny Trunk

- The Woods Today

Jonny Trunk

- Mr. Hand

Jonny Trunk

- Dead Mouse Blues

Jonny Trunk

- The Horn

Jonny Trunk

- Zeus

Jonny Trunk

- Willing And Able
Download Album (JBH008CD)