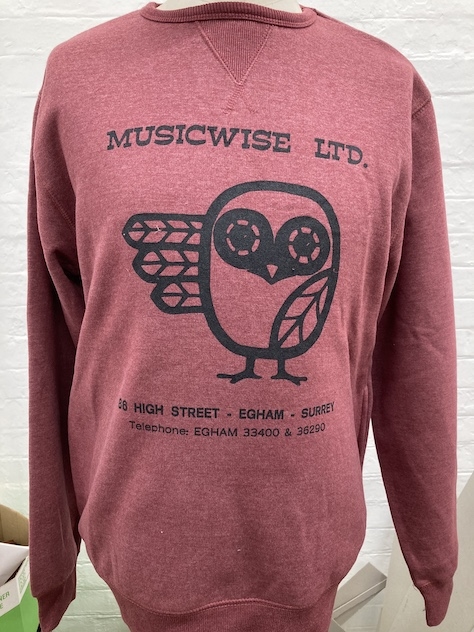 THE MUSICWISE OWL SWEATSHIRT
| Format | Price | Buy |
| --- | --- | --- |
| THE MUSICWISE OWL SWEATSHIRT SMALL | £35.00 | |
| THE MUSICWISE OWL SWEATSHIRT MEDIUM | £35.00 | |
| THE MUSICWISE OWL SWEATSHIRT LARGE | £35.00 | |
| THE MUSICWISE OWL SWEATSHIRT XL | £35.00 | |
| THE MUSICWISE OWL SWEATSHIRT XXL | £35.00 | |
Sorry, THE MUSICWISE OWL SWEATSHIRT is out of stock.
Description
THE MUSICWISE OWL SWEATSHIRT
Brilliant new Trunk sweatshirt - made using the 1970s Musicwise Record shop bag - Egham Branch. They had other branches (there's a joke in there somewhere), but here we are looking all groovy and 1970s in that thick graphic style that I associate with Hornsea pottery of the same period. Screen printed onto a think Cottonridge sweatshirt in a light burgundy colour, this really is pretty groovy. And the sweatshirt even has a key / phone pocket. See below for sizing...