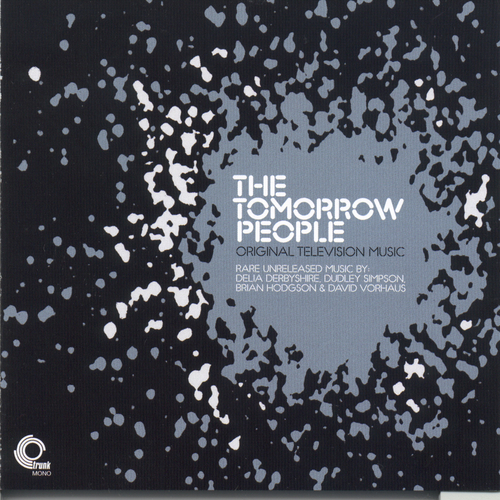 The Tomorrow People
Available Formats
Tracks
Price
Buy
12" Vinyl Album
26 tracks

£

11.99

Out of stock

CD Album
26 tracks

£

6.99

Out of stock
Description
Various Artists - The Tomorrow People
The unreleased music from this "quite different TV series" produced by Thames Television between 1973 and 1979.

In short this is pure British electronics of the highest order. The musicians involved - Delia Derbyshire, Brian Hodgson, David Vorhaus and Dudley Simpson all worked for the Radiophonic Workshop. These original 1969 / 70 recordings were issued once as a library LP on the Standard library label, they were never commercially available and are therefore exceptionally rare. This is the first time these recordings have been commercially released. This issue is extremely limited. It is also quite interesting to know that some of this music was used for other legendary sci-fi series, such as Dr Who, but that's a whole other story.

CD and very limited vinyl.
Tracklisting
12" Vinyl Album (JBH017)
Dudley Simpson

- The Tomorrrw People Theme

Simpson

- Lure Of The Space Goddess

Russe, St. George

- Battle Theme

St. George

- Homeric Theme

St. George

- Greek Concrete

St. George

- Attack Of The Alien Minds

St. George

- Gothic Submarines

St. George

- Whirring Menace

Russe, St. George

- Souls In Space

St. George

- Time Capsules

St. George

- Restless Relays

St. George

- Planetarium

Russe, St. George

- Wet Asteroid

Russe

- Way Out

St. George

- Fresh Aire

Russe

- Delia's Theme

Russe

- Tentative Delia

Russe

- Delia's Idea

Russe

- Delia's Psychedlian Walyz

Russe

- Delia's Resolve

Russe

- Delia's Dream

Russe

- Delia's Reverie

Russe

- Delia's Fulfilment

Vorhaus

- Build Up

Vorhaus

- Snide Rhythms

Simpson

- The Tomorrrow People Theme
CD Album (JBH017CD)
Dudley Simpson

- The Tomorrrw People Theme

Simpson

- Lure Of The Space Goddess

Russe, St. George

- Battle Theme

St. George

- Homeric Theme

St. George

- Greek Concrete

St. George

- Attack Of The Alien Minds

St. George

- Gothic Submarines

St. George

- Whirring Menace

Russe, St. George

- Souls In Space

St. George

- Time Capsules

St. George

- Restless Relays

St. George

- Planetarium

Russe, St. George

- Wet Asteroid

Russe

- Way Out

St. George

- Fresh Aire

Russe

- Delia's Theme

Russe

- Tentative Delia

Russe

- Delia's Idea

Russe

- Delia's Psychedlian Walyz

Russe

- Delia's Resolve

Russe

- Delia's Dream

Russe

- Delia's Reverie

Russe

- Delia's Fulfilment

Vorhaus

- Build Up

Vorhaus

- Snide Rhythms

Simpson

- The Tomorrrow People Theme