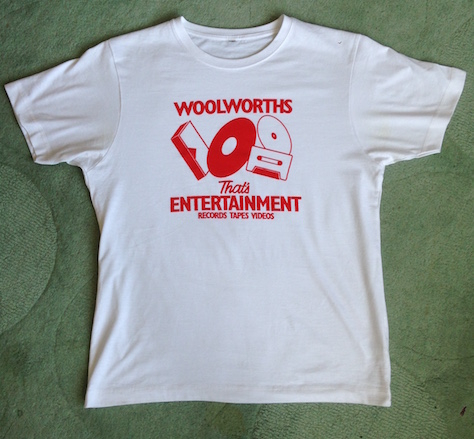 Woolies That's Entertainment Tee Shirt
| Format | Price | Buy |
| --- | --- | --- |
| Woolies That's Entertainment Tee Small | £10.00 | |
| Woolies That's Entertainment Tee Shirt Medium | £10.00 | |
| Woolies That's Entertainment Tee Shirt Large | £10.00 | |
| Woolies That's Entertainment Tee Shirt XL | £10.00 | |
| Woolies That's Entertainment Tee Shirt XXL | £10.00 | |
| Woolies That's Entertainment Tee Shirt XXXL | £10.00 | |
Sorry, Woolies That's Entertainment Tee Shirt is out of stock.
Description
Woolies That's Entertainment Tee Shirt
Well no, Woolies are not back, but this classic Woolworth's That's Entertainment tee short, featuring a VHS, an LP, a cassette and a CD is available to you now. Quite limited as we made some but the heater that dries the ink was a bit slow so some got scalded and had to be recycled. Anyway, classic 1980s high street larks - screen printed onto top top quality Continual tees. Organic cotton and that. None of your rubbish here. I wore mine this week into Iceland, and I got some funny look as Iceland in N16 is where the Woolies used to be. I think some of the older customers thought they were in some weird time warp.